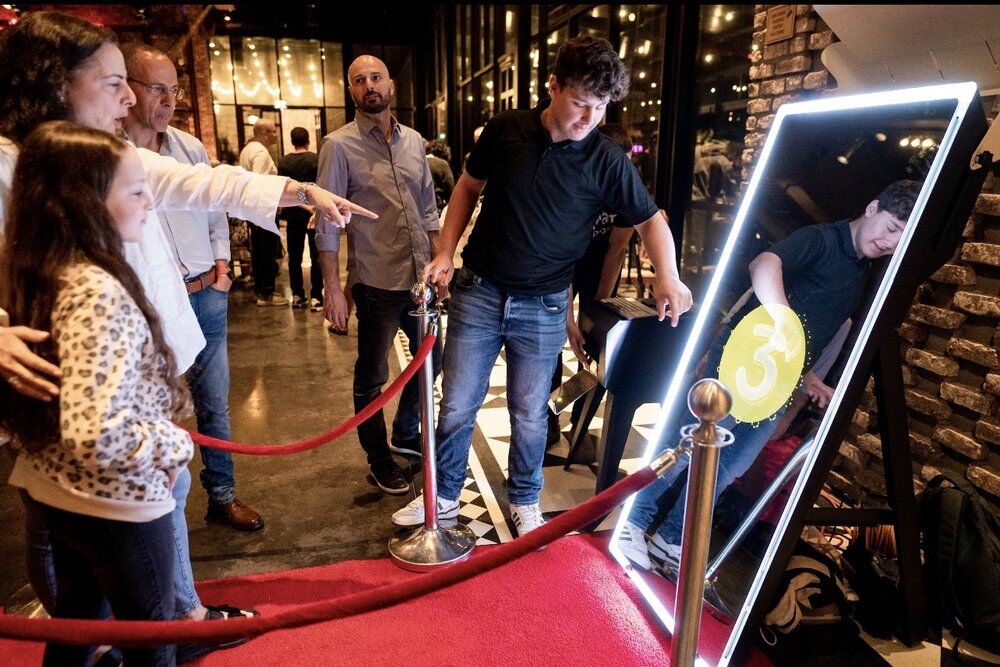 Photo Booth Rental Service
Photo booth rental is an excellent addition to any event. It's an opportunity for guests to let loose and have fun while taking memorable photos. With our DFW photo booth rental service, guests can capture their silly moments with various props and backdrops and take home prints to remember the occasion.
Not only does photo booth rental provide entertainment for guests, but it also becomes a unique way to remember the event for years to come. If you're considering adding fun to your event, consider a photo booth rental for an unforgettable experience.
Choose The Perfect Photo Booth
We Custom Design Your Prints
Add The Perfect Props To The Mix
Enjoy the party with
your friends
Full-Length Touch Screen Mirror

High-Resolution Camera

Instant Photo Prints

Customizable Animations and Graphics

Digital Props

Fun Filters

Social Media Sharing Capability

Email and Text Photo Sending

User-Friendly Interface

LED Frame Lighting
Signature Feature on Photos

Multi-Language Support

Interactive Games

Photo Retake Option

QR Code Photo Retrieval

GIF Creation

Green Screen Compatibility

Customizable Photo Layouts

Branding Options for Corporate Events

Seamless Integration with Event Theme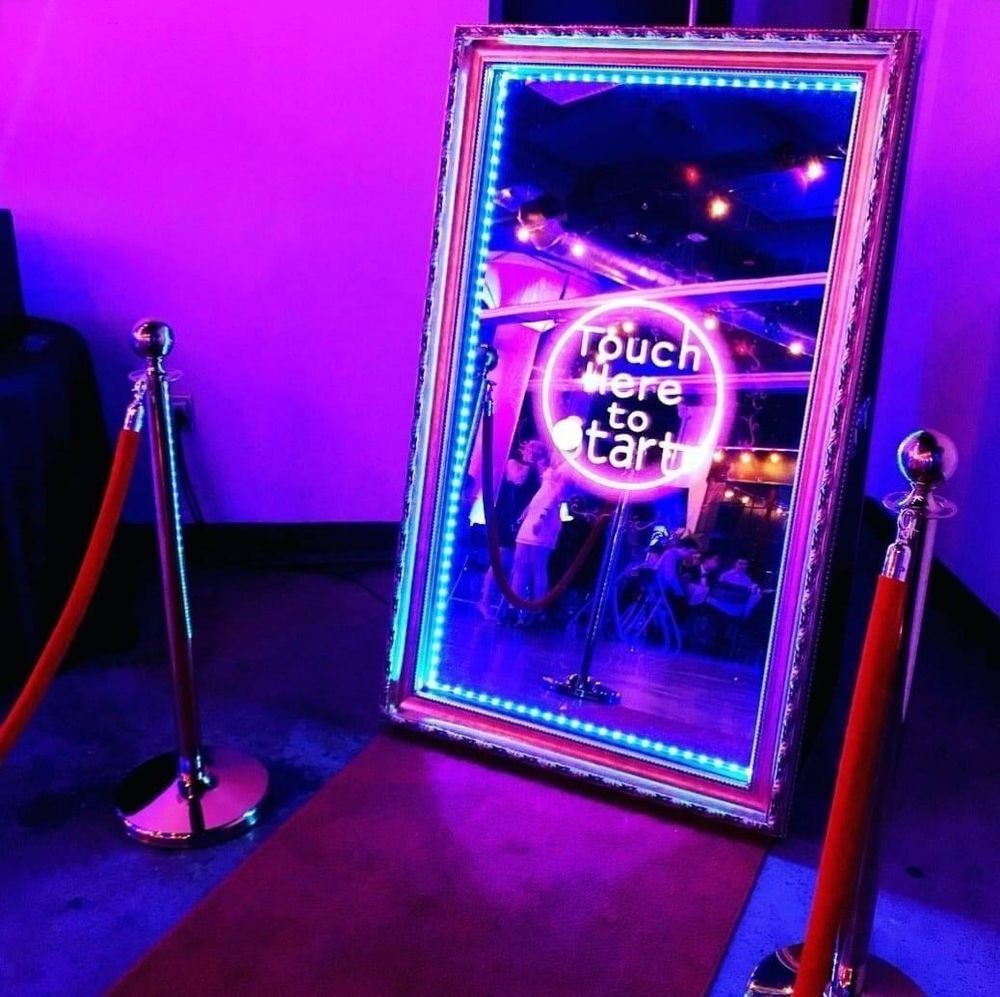 Who is Mirrored Memories DFW?
Welcome to the premier photo booth rental service in Dallas-Fort Worth! We are committed to adding fun, laughter, and lasting memories to your events. Our top-of-the-line photo booths are the perfect addition to any gathering, be it a wedding, corporate event, birthday party, or special occasion.
In today's digital age, photos are not just pictures; they are precious memories captured in the frame. And what better way to create these memories than with a photo booth? A photo booth does more than take great pictures. It creates a unique, interactive experience that engages your guests, making your event memorable. Whether it's the laughter while posing with props, the anticipation of instant photo prints, or the joy of reliving those moments later, a photo booth becomes a highlight of the event, talked about and shared long after the occasion ends.
Our DFW photo booth rental service brings this exciting experience to your event, ensuring you and your guest remember your special day for all the right reasons.
Why Choose Our Photo Booth Rental Services
When it comes to creating memorable experiences at your event, our photo booth rental service stands out for several reasons:
Interactive Entertainment:

Unlike traditional photo booths, our mirror photo booths offer a fully interactive experience. The touchscreen mirror interface is user-friendly and fun, providing your guests with a photo and an engaging experience.
High-Quality Photos:

Our mirror photo booths have high-resolution cameras and professional lighting, ensuring guests leave with top-quality photos they'll treasure.
Customization:

We offer a wide range of customization options. From personalized animations and voice guidance on the mirror booth to custom props and backdrops, we can tailor every aspect to suit your event theme.
Instant Social Sharing:

Our mirror photo booths allow guests to instantly share their photos on social media or send them via email. This feature amplifies the fun beyond the event, as guests can immediately share their joy with their online friends.
Elegant Design:

The sleek, full-length design of our mirror photo booths adds a touch of elegance to any event. It's not just a photo booth; it's a stylish addition that enhances the décor of your venue.
Full Service:

When you rent from us, we take care of everything – delivery, setup, operation, and breakdown. Our friendly and professional staff ensures everything runs smoothly, allowing you to focus on enjoying your event.
Choosing our mirror photo booth rental service means choosing a unique, fun, and hassle-free way to make your event unforgettable.
What Types of Features Does the Mirror Photo Booth Offer?
Our mirror photo booths are packed with state-of-the-art features designed to enhance your event and give guests a memorable experience.
High-Quality Camera and Lighting
We equip each of our mirror photo booths with a top-of-the-line, high-resolution camera that guarantees stunning photos every time. Coupled with professional-grade lighting systems, the booth ensures every shot is well-lit, and every detail is captured, providing you and your guests with beautiful, high-quality photos.
Touch Screen Interface
The interactive touchscreen interface adds extra fun to the photo-taking process. The full-length mirror has a user-friendly touch screen, allowing guests to interact with their reflection, start the photo-taking process, and even sign their creations before printing or sharing them online.
Customizable Options
We understand that every event is unique, so we offer a wide range of customizable options to make your photo booth experience truly yours.
Personalized Backdrops
Choose from our array of backdrops or have one custom-made to match your event theme.
Fun Props
We offer a variety of props that your guests can use to add extra fun and personality to their photos. From silly hats to quirky signs, we have something for everyone.
Custom Photo Templates
Want your photos to be uniquely yours? We can customize the photo templates with your event details, branding elements, or any design you choose. This feature is excellent for weddings, corporate events, or any occasion you want to leave a lasting impression.
With these features and more, our mirror photo booths go beyond just taking photos – they create lasting memories.
What Is The Photo Booth Rental Process?
At Mirrored Memories DFW, we believe in providing a seamless and stress-free experience from the moment you book our services to the end of your event. Here's a step-by-step guide to our service process:
Booking and Consultation: Once you decide to rent our mirror photo booth, contact us through our contact form, email, or phone. We'll discuss the details of your event, your specific needs, and any customization you desire. After this initial consultation, we'll provide a quote tailored to your requirements.
Planning and Customization: After booking, we'll work closely with you to plan your event's perfect photo booth experience. This includes selecting and creating custom backdrops, designing personalized photo templates, and preparing any other requested customization.
Delivery and Setup: Our professional and friendly team will arrive on time to set up the photo booth at your venue on the day of your event. We handle all the technical aspects, ensuring the booth is fully operational and ready to capture memories before guests arrive.
Operation: During your event, our experienced staff will be on hand to operate the booth, assist your guests, and ensure everything runs smoothly. They'll guide your guests on using the booth, help with props, and manage photo printing and digital sharing.
Breakdown and Follow-up: Our team will break down and remove the booth from your venue once your event concludes. We'll also follow up with you to provide digital copies of all the photos and ensure your complete satisfaction with our service.
Our dedicated team is committed to making your photo booth experience enjoyable and hassle-free from start to finish. With our attention to detail, commitment to excellent service, and passion for creating memorable events, we promise to make your special occasion even more spectacular.
What Types of Events Are a Good Fit For Photo Booth Rental?
Our mirror photo booth rental service is a versatile solution that adds fun and entertainment to various events. Here are some of the occasions we cater to:
Weddings: Capture the joy and laughter of your special day with our photo booth. It's an excellent way for guests to let loose, have fun, and create lasting memories of your wedding.
Corporate Events: From product launches to holiday parties, our photo booth can add a touch of excitement to any corporate event. It's also an excellent tool for branding, as we can customize photo templates with your company logo or event details.
Birthday Parties: Whether it's a sweet 16 or a milestone birthday, our photo booth adds an element of fun that guests of all ages will enjoy. Plus, the photos make great party favors!
Graduation Parties:Celebrate this significant achievement with our photo booth. It's a fun and unique way for graduates to commemorate this special day with friends and family.
Anniversaries: Add a touch of nostalgia to your anniversary celebration with our photo booth. It's a fun trip down memory lane and a great way to create new memories.
Charity Events: Our photo booth is an excellent addition to charity events. It not only entertains guests but can also be used to raise awareness by customizing the photo templates with information about the cause.
Festivals and Concerts: Let Dallas-Fort Worth concert-goers or festival attendees capture their exciting experiences with our photo booth. It's a fun way for them to remember the event and share their experiences on social media.
No matter what type of event you're planning, our mirror photo booth is a fantastic way to enhance the experience and create lasting memories.
What Is The Cost of Photo Booth Rental in Dallas-Fort Worth?
We offer a variety of packages designed to fit different event needs and budgets. Each package includes the use of the mirror photo booth, professional lighting, a wide selection of props, custom photo templates, and a friendly attendant to ensure everything runs smoothly. Here's an overview of our pricing structure:
Basic Package: Our basic package is perfect for smaller, intimate gatherings. It includes 2 hours of service with all the standard features.
Standard Package: The standard package offers everything in the basic package but with 4 hours of service. This package is ideal for medium-sized events.
Premium Package: Our premium package provides up to 6 hours of service. It includes all the standard features plus extra perks like a custom backdrop and a digital copy of all photos taken during the event. This package is perfect for more significant events or those wanting to offer their guests something extra special.
Custom Package: If our existing packages don't fit your needs, we'll create a custom package just for you. Whether you need extra hours, additional booths, or unique customization, we'll tailor a package to suit your requirements.
Special Offers and Discounts:
We believe in offering great value to our clients. That's why we often have special offers and discounts available. Be sure to ask about our current promotions when you contact us for a quote.
Please note that prices vary based on customizations, location, and other factors. For detailed pricing information, feel free to get in touch with us. We're here to help you choose the right package for your event and budget.
What Do Customers Think About Mirrored Memories DFW?
We're proud of our service; nothing makes us happier than hearing from our satisfied customers. Here's what some of them have to say about their experience with our photo booth rental service:
"Best Addition to Our Wedding!"
"Renting a mirror photo booth was our best decision for our wedding! Our guests enjoyed taking photos and loved looking at pictures after the event. The staff was professional and ensured everything ran smoothly. Highly recommend!" – Sarah and Jake.
"Hit of the Party!"
The photo booth was the hit of our corporate event! It was a great way for our team to let loose and have fun. Plus, the ability to customize the photo templates with our company logo added a nice touch. Thank you for your excellent service!
"Amazing Experience!"
I rented a photo booth for my daughter's sweet 16, and it was amazing! The teens had a blast taking silly photos with props, and the pictures' quality was outstanding. The staff was friendly and helpful.
"Great Value for Money!"
We rented a photo booth for our charity event, which was worth every penny. It added fun and helped us raise awareness. The team was professional, and the booth was easy to use.
These are just a few examples of the positive feedback we've received. We're dedicated to providing outstanding service and creating memorable experiences at every event.
What's The Process of Renting a Photo Booth?
Ready to add a unique touch to your event? Try our mirror photo booth rental service. We're excited to help you create unforgettable memories.
To get started, you can reach us in the following ways:
Email: Send us an email at bookings@mirroredmemoriesdfw.com with details of your event. Include the date, location, expected number of guests, and any specific requirements or questions you might have.
Phone: Feel free to call us at (123) 456-7890. Our friendly team is available to discuss your needs, answer any questions, and provide a personalized quote.
Online Form: You can also complete the contact form on our website. Once we receive your inquiry, we'll reply as quickly as possible.
Booking with us is straightforward. Once we've discussed your needs and you've decided on a package, we'll reserve your date, finalize the details, and send you a booking confirmation.
We encourage you to reach out with any questions or concerns. Our team is here to ensure that your photo booth experience is perfectly tailored to your event. We look forward to hearing from you and helping you make your event memorable!